Mattie (AKA Mollie) (04/18/1865-?)

His father's will stipulates that Michal "shall have all the rest of my effects together with the plantation wherein I now live to be at her command during her natural life or widowhood or until my youngest son Nathan Morris comes to the age of 21 years and then to be equally divided between Thomas, John, Ross, and Rebecca and Nathan." Assuming Nathan Jr. John's younger brother, born in 1821, would have been 21 by 1842, his mother Michal's planation and other effects inherited from Nathan would have been divided between the children around 1842. The 1850 Montgomery Co. Census, p221, lists Michal Morris, age 71, with Ross (29) and Thomas (35) living with her, and Real Estate valued at $500. The Agricultural Production schedule gives her land ownings as 137 acres plus $200 of livestock. Sometime between 1851 and 1860, the John Morris family moved from Montgomery County to Hickman County, Tennessee. Apparently, John's portion of this inheritance consisted of 5,000 angora goats and at least 6 slaves. The best estimation I can make of the location of the 700 acre property they were farming is in an area 1 mile South and 1/2 mile West of Pinewood, to the Northeast of James Hollow, North and West of the Piney River, as well as the bluffs and caves about 2 or 3 miles into the wooded region near what is now Cash Hollow Road. Oddly, while personal property value is listed as $12,861 (a sizeable value rivaling that of the wealthy merchants and lawyers around there) the real estate value is $0. He must have had an lease or other arrangement to farm the the land? Who owned the property in 1860? I believe it is currently part of a 463 acre tract owned by the Cash family.

In the 1860 Census for Hickman County, 6th District, page 139, the John MORRIS family is listed next to the Hardy PETTY family, consisting of Hardy PETTY (1811), Susan Wren PETTY (1812?), and at least 9 children. The Hardy and Susan PETTY family is also listed in the 1931 letter by W.P. MORRIS in numerous places. The CASH family land is adjacent to the PETTY Cemetery which Hardy PETTY defined and donated in his will. I assume these are descendants of Thomas PETTY, one of the first settlers of the Piney River in Dickson County. Hardy's wife Susan's maiden name was WREN. Is she related to Nathan Morris' child Rebecca Wren Morris? Is this why there is such a bond between the PETTY family and the John MORRIS family?

At the outbreak of the Civil War, at age 43, John MORRIS joined the Confederate Army along with other men from Hickman County, possibly into A or B Company, 42nd Infantry of the CSA (based on a match between Tennesseans in the Civil War, Part 2 and Goodspeed's Hickman County History of Tennessee. Sometime between January 20th when he was in Centerville selling a 12 year old slave named Lewis, and February 13, 1862, he joined his regiment and was sent to Fort Donelson, which is only about 60 miles north of Pinewood. Almost immediately upon arrival, on February 16, 1862, Fort Donelson was captured by the Union forces under General Ulysses Grant. Some historians believe this was a collossal blunder, as the gunners at the fort had rendered 4 Union City-class Ironclad Gunboats inoperative and had repelled every Union assault on the fort. And yet they surrendered, turning the tide of the war almost immediately in its infancy, by opening the way for the Union to invade Nashville and the South. John MORRIS and 13,000 other soldiers were captured, and MORRIS was sent to Rock Island Prison in Illinois in 1863. It is not clear where he was held for the year prior to his incarceration at Rock Island, because Rock Island prison was not operational until November 1863. Possibly Camp Douglas in Illinois.

"On April 10, 1862, a petition was sent from Camp Douglas to Andrew Johnson, Military Governor of Tennessee, from men from the 42nd, 48th, 49th and 50th Tennessee Infantry Regiments, expressing a desire to take the oath of allegiance to the Federal Government, and requesting his intercession in their behalf."

He took the Amnesty Oath, and when he returned home to Pinewood, (they found him walking down the road) he was "tall and lean, with an awful crop of beard" and his children did not even recognize him. It's over 500 miles from Rock Island to Pinewood. How far did he actually walk? If he was indeed at Rock Island, he managed to survive smallpox and many other horrors that killed 17% of the entire inmate population there.

The John Morris household is listed in the 1870 and 1880 Census of Humphreys County. The real estate value in 1870 is $2,000 and the personal property value is $800. I imagine the goats did not make the move to Humphreys County. Certainly the roughly $3,500 worth of slaves he owned were set free by 1865. In the 1880 Census of Humphreys County, District 2, John Morris is listed as a widower, with Sallie, Mattie, and Samie (daughters) living with him as well as Katie (Kate R) HALL (26), listed as a Daughter, and her two sons Camp HALL (8) and Alfred HALL (6).
Williamson Plant MORRIS (06/27/1851-01/13/1941)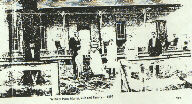 Born in Humphreys County, TN. In 1877, he married Ella TROTTER (18??-1893), and they had the following children: Walter (02/1882), Alma E. (07/1883), Trotter J. (08/1885), Bessie B. (12/1887), Clarence Norman (03/1893), and 3 others lost in infancy.

After Ella TROTTER died in 1893, Williamson Plant MORRIS moved to Rives, TN, in Obion County. On October 10, 1894, he married Elizabeth Caroline WHITESIDE (05/18/1864-11/21/1951) of Rives, TN. She was the daughter of John N. WHITESIDE and Elizabeth L. HARPER (married 11/12/1839). Family members say they never heard her call W.P. anything except "Mr. Morris", and he called her "Miss Lizzie". She had 2 brothers, John and Luther, and 2 sisters, Mary Ann and Margaret Jane. Both W.P. and Elizabeth are buried in Pleasant Hill Cemetary in Rives, TN.
They had the following children:
Harvey Gordon MORRIS (01/10/1897-02/??/1972)

Married Minnie STARNES (1900-1979). They had a daughter, Mary Virginia MORRIS, who married Mack MACDONALD and later Buck MCNEILL.

Williamson MORRIS (1899-1900)

Died in infancy.

Margaret Ruth (01/18/1902-03/03/1991)

Married Owen Brown WOODY in 1922. They lived for a while in South Bend, Indiana, before moving to Jackson, Tennessee, where they ran a grocery store. Owen died in 1955. Thereafter, Margaret lived in Kennesaw, Georgia with Tom SCOTT her last few years, and spent the last few months of her life in a nursing home in Knoxville, TN. She and her husband are buried in the West Hill Cemetary in Rives, TN.

Wilma Plant (11/14/1907-)

Born in Rives, TN. Married William Hubbard SCOTT in South Bend, Indiana on 07/12/1930. They lived in Chicago until their return to Tennessee in 1944. Hubbard was an electrical engineer for the TVA until his retirement, and they lived in Knoxville. Wilma currently lives with her son Paul in Washington, DC. They had two children:

Charles R. MORRIS (09/01/1904-04/13/1989)

Born in Rives, TN. Married Martha Campbell HARRIS (1908-1988) of Union City, Tennessee. They had 2 children:

Eula Faith MORRIS (1933-2017) married Carroll VOIGTS

Robert VOIGTS (1954-)
John VOIGTS (1955-)
Susan VOIGTS
Julie VOIGTS

Married Barbara Avalee CASH (03/11/1928-11/12/1999) of Monroe, Louisiana. They adopted Martha Anita BETSCHE (1970) of Germany in 1971, and had the following children:

Married Laura Lynne JACOBS (1961-) in 1979 in Dallas, Texas and had one child:

Paul Robert MORRIS (1958-)

Married Elaine HAUSKNECHT and had one child:

Philip Scott MORRIS (1962-2017)

Married Elaine Marie UHDE (1956-) in Albuquerque, NM, and had the following children:

Seth Thomas Lee MORRIS (1988-)
Jacob Ian MORRIS (1990-)
---

Click on this image of the 1860 Census for Hickman County to see how difficult it is to find your relatives in these poorly preserved documents!

---
The Amnesty Oath
We, the undersigned, do solemnly swear, in presence of Almighty God, that we will henceforth faithfully support, protect and defend the Constitution of the United States, and the Union of the States thereunder; and that we will, in like manner, abide by and faithfully support all acts of Congress passed during the existing rebellion with reference to slaves, so long and so far as not repealed, modified, or held void by Congress, or by decision of the Supreme Court; and that we will, in like manner, abide by and faithfully support all proclamations of the President made during the existing rebellion having reference to slaves, so long and so far as not modified or declared void by decision of the Supreme Court: So help us God.
---
Genealogy Links of Interest
I am selling a book called TENNESSEANS IN THE CIVIL WAR, by Civil War Centennial Comm., Part 2, 1965, reprinted 1981: A listing in alphabetical order of all TN residents known to have participated on either Union or Confederate side in the Civil War, with rank and unit served with. 612 pages. Hardbound. In mint condition except for a couple of names highlighted in yellow. Maybe you can find them if you look hard enough! I bought this book for $48.00 and got what I needed. I'll sell it for $40, including shipping, to the first person who e-mails me and tells me they want it! I can take check, money order, or credit cards.
Links to MORRIS genealogies
General
HUGE collection of links, photographs, surname researchers, and other resources from the University of California, Riverside
North Carolina
Tennessee
Civil War
Scots/Irish
PETTY Family researchers on the Internet
EASLEY Family researchers on the Internet
HORN Family researchers on the Internet
---
Last Update: 20Apr2004 by

Dave Morris