Genealogy of the Morris family
From 1690 in VA to 1755 in NC to 1830 in TN to 1997 in Texas
Surnames mentioned on this site:
ALLEN, BOGGAN, BROOKS, BUFORD, CASH, CLINE, COLLIER, EARLY, EASLEY, ETHRIDGE, FRENCH, GODFREY, GOLDSON, GRIFFIN, GURLEY, HALL, HORN, MASK, MCGREGOR, MOOR, MORRIS, NANCE, ORR, PEARCE, PETTY, PLANT, RILEY, RUST, SCOTT, SHERLOCK, SMITH, STARKEY, STARNES, VOIGTS, WILLIAMSON, WHITESIDE, WOODY
Use your browser's FIND menu to search for the names you want to locate on this page
---
"Lo, there do I see my father.
Lo, there do I see my mother, my sisters and my brothers.
Lo, there do I see the line of my people back to the beginning.
Lo, they do call to me.
They bid me take my place on Asgard in the halls of Valhalla,
Where the brave may live forever." - Old Norse prayer
---
Introduction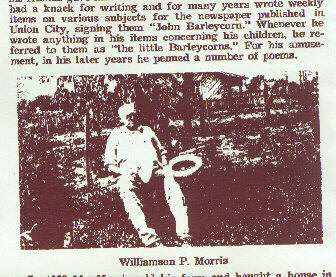 This research began with the discovery of a letter written by my great grandfather, Williamson Plant MORRIS back in October 1931. The letter contained a detailed description of life at the MORRIS farm during the Civil War in Hickman County, Tennessee. The discovery of this letter prompted my interest in my ancestry.

What I have written here is a work in progress that will continue to grow as I explore the many branches. Feel free to follow the many links I have sprinkled throughout the pages.


The complete letter written by Williamson Plant MORRIS! This fascinating letter describes:
Life during the Civil War on the border between the two sides
Stories of slave trading
Slaves named "Jack", "Jane", and "Rose"
The fall of Fort Donelson
Kinsmen Mr. OR and Carrie GOLDSON of Oceola, Clarksville and Charlotte
A deserter soldier found dead named Burnard RILEY
Dunbar's Cave
Haunted Hollow
Jessie RUST and the military hospital in Nashville
A Yankee officer named Capt. BUFORD
The 'mud negro' of Reelfoot Lake, named Bill MOOR or EDWIN FRENCH
Susan GODFREY, the girl in a trance from Obion County aka Sleeping Beauty
J.D. HOWARD (Jesse JAMES)
Charley CLINE, Will SCOTT, Hubbard SCOTT
---
The Lineage
The Origins of the Scots/Irish

In the 1600's, the border between Scotland and England was in tremendous upheaval. Peaceful, normal life was an unattainable fantasy. In order to survive, the Scots who lived in that region became "Border Reevers" (Robbers). They were the best frontier fighters in Britain, if not in Europe.
In 1603, James I, King of England ascended to the throne and the border was finally pacified by sending many of these families to Northern Ireland. It was hoped they would settle down, but their previous lifestyle had become too ingrained. These Scots/Irish are usually referred to as "Ulster Scots" in the United Kingdom. They were predominantly Presbyterian/Protestant, and had no need of either a priest or a King to think for them.
There were wars between the Scots/Irish and the Native Irish between 1640 and 1660 when the Irish rose up against the English. Finally the Scots/Irish army was defeated, and the they became persecuted. Presbyterian services were prohibited and the ministers outlawed.
---

The Scots/Irish Emigrate to America

At the close of the 17th century, both persecution by the British and terrible climatic conditions all across Europe (there having been no harvest in 5 years) had become so severe that the Scots/Irish were forced to emigrate. They often indentured themselves as servants to pay for passage, and the journeys by ship, lasting anywhere from 3 weeks to 3 months, were typically disastrous.
The Scots/Irish landed mostly in Pennsylvania and began settling in the hills nearby. They also moved into Maryland or other close by places that resembled their home countryside. The first Ulster settlement was in Donegal, PA. Eventually, a ferry opened up the Cumberland Valley, and it became their heartland. By the middle 1700's, the flow of immigrants down the Shenandoah Valley and westward from Charleston and Carolina ports filled the back countries of the Carolinas at a remarkable rate.
But the Ulstermen were known for their drinking, arguing, singing, and dancing. They did not have a peaceful relationship with the Native Americans who lived all around them. The old border reevers of the Scots/English border had become the frontiersmen and the mountain men of the new world.
William MORRIS (1730-1806)
(Some of this information was taken from Family Treemaker World Family Tree, Volume #4, Ed. 1, Tree# 1402)

William MORRIS was born in Virginia and died in Anson County, NC. Some possible records related to him that I am researching are:

He was married to Pherabee GURLEY, and they had these children:
Betty
Frances
Sarah
Lydia
Jessee
Molly (1756 Hickman Co. KY - ?)
Nathan (1755-1830) See below
Sometime after 1795, he married Martha Rebecca Ann NANCE of Anson County, NC (1773 Mecklenberg Co VA - ?) She was the widow of William MASK (ca 1769 Goochland Co. VA - ca 1795 Anson County, NC) with whom she had several children, including Miles W. MASK, (1794-?), who married Louise BOGGAN.

The children of William Morris and Martha Nance were:
Patsey

William Airley (1800-after 1844)

William A. Morris (sometimes referred to as Rev. Morris) married Martha (Patsy) SMITH (4/30/1801), the daughter of William SMITH and Nancy ALLEN SMITH. His will, dated 1844, lists these sons:

James W.
J.J.
Thomas
J.S.
N.A.
G.W.
Columbus W. (the youngest son)

and these daughters:

Eliza Ann, married Miles ALLEN and moved to Fayette Co. TN, but moved back to Anson Co., NC after her husband's death in the early 1840's and married Alexander BROOKS
Martha A.K., married a GRIFFIN
Frances J.L., married a GRIFFIN (not necessarily the same one... there were several!)
His Estate Records are dated 1858.
Nathan MORRIS (1755-1830)
Nathan MORRIS lived in Anson County North Carolina until 1807, according to Ruth A. Hays of Montgomery County, TN (Mail: Route 1, Guthrie, KY 42234). I believe he may have lived in White Store Township, and I also believe his family may have been acquainted with Williamson PLANT, a revolutionary war soldier mentioned in a deed for the Long Pine Methodist Church and who is also listed in Dickson County Tennessee Handbook by Jill K. Garrett.
Many small farmers opposed the British militia under Governor Tryon at the Battle of Alamance, May 16, 1771, but they lost and were compelled to take the oath of allegiance to the King. About 4,000 people who refused to take the oath left North Carolina over the next few years and moved into Tennessee. Among those who moved to Montgomery County, Tennessee, were Williamson PLANT and Thomas PETTY who is also listed in deed for the Long Pine Methodist Church.
Nathan Morris is listed as a Private in the roster of soldiers in the American Revolution as being in Evan's Company, from 1782 for 18 months. (North Carolina State Records, Clark, Vol XVI, 1782-1783, page 149)
The 1800 Census of Anson County lists the Nathan Morris family as having 3 males under the age of 10, 1 female between 10 and 16, 3 females 16 to 26, and the father being 45 or older. This would put Nathan's birthdate at 1755 or earlier.
In 1803, Montgomery County was split up, creating Dickson County, and Thomas PETTY staked a claim on Piney River. The Nathan Morris family moved to Montgomery County in 1807.
Nathan MORRIS was still living in Montgomery County, TN at the time he wrote his will on February 28, 1830. They lived on a plantation and Nathan had 5 personal servants himself. It is not known how many other servants were in their household or worked on the plantation. The following children were from his first wife, Louisa (last name and dates unknown):
Jesse (ca 1790 - ca 1857)
William Thomas(1804-1838), Married Avrilla MCGREGOR of Stewart Co. TN and had a son named Nathaniel N. Morris, who had a son named Lemuel M. Morris in 1865 in Pope Co. AR.
Charles B. (?-?)
Nancy (?-?)
James (?-?)
The will also lists the following people who are assumed to also be grown children already married:
Elizabeth ALLEN
Mary (05/07/1793 NC - 08/19/1869 Montgomery Co. TN) Married Rev. Henry HORN (08/22/1792 - 02/21/1866) September 30, 1813 in TN Their children were:

Josiah Martin (11/04/1816 Montgomery Co, TN - 07/03/1898 Baxter Co, AR)
Sarah T. (07/31/1819 Montgomery Co, TN - 02/07/1841 Montgomery Co, TN)
Thomas Hunter (08/28/1821 Montgomery Co, TN - 07/11/1910 Mountain Home, Baxter, AR)
William D. (10/28/1823 Montgomery Co, TN - ??)
Henry S. (10/20/1825 Montgomery Co, TN - 09/15/1894 AR)
Cordial N. (09/25/1827 Montgomery Co, TN - 01/22/1865 DeSoto Parish, LA)
Dr. James R. (10/01/1829 Montgomery Co, TN - after 1887 Keatchie, LA)
Charles Frances Marion (10/03/1831 Montgomery Co, TN - 04/1918 Lafayette, Kentucky)
Elizabeth W. (11/07/1833 - 04/23/1855)
Columbus J. (05/20/1837 - 02/1865)
Cornelius David (03/16/1840 Montgomery Co, TN - 07/04/1928 Cumberland City, Stewart Co, TN)

Sally PEARCE
Catherine COLLIER
Lucy (02/28/1809 Montgomery Co, TN - 05/26/1884 Montgomery Co, TN) Married Cordell H. HORN (09/16/1800 - 08/18/1882) in 1830 Their children were:

Catharine E. P. (1829-??)
Priscilla W. (1832-??)
Elizabeth H. (1834-??)
Sally A. (1836-??)
George (1841-??)
Nathan Ross (07/17/1849 Montgomery Co, TN - 05/20/1918 TN)
Nathan MORRIS was married twice, the second time to Michal (last name unknown, 1778-186?) and the Will lists the following children separately, with inhertitances more closely tied to Michal:
Thomas (1815-?)
John (1819-?) see below
Ross (6/1821 Montgomery Co, TN - 1893 Beeville, TX) married Elizabeth C. STARKEY (11/1831 NC - ?) on 01/01/1851 (Montg. Co. Marriage Records), founded the city of Mineral, TX, according to the "History of Bee County"
Rebecca Wren Morris
Nathan Jr. (born after 1821)
John MORRIS (1819-?)
The third son of Nathan and Michal MORRIS was John. According to the 1850 and 1860 US Census for Hickman County, John MORRIS was born in 1819 in Montgomery county, Tennessee. He married Sarah G. WILLIAMSON on 06/20/1846. (Sarah had a sister named Ann F. WILLIAMSON, who married John W. PLANT 07/26/1845.) John and Sarah had the following children:
Mary E. (1847-?)
Eugenia or possibly Virginia (1848-?)
Kate B. or Cate P. (08/1850-?) Married a HALL, was widowed by 1880, and had Camb (Campbell), (10/1870-?), and Alfred Hall (1874-?). Then married ETHRIDGE, and had Sammie (101887-?) and was widowed again by 1890.
Williamson Plant (06/27/1851 - 1941), named after his mother (WILLIAMSON) and his uncle (PLANT).
Anabella (Belle) Brown (07/07/1853 - 04/05/1895) married John FRENCH in Humphreys County, 29 January 1876. They had the following children: Bristol, Sallie A., Clarence C. and Mattie (Mabel). Belle B. FRENCH, John FRENCH and Sallie FRENCH are buried in the French/Pulley Cemetery on Lewis Branch near Erin, TN (Tombstone photo) and (Sallie FRENCH obit)
Joseph (Johnnie) (1857-?)
Sally A. (1859-?)
Sammie (1862 -?)
Mattie (AKA Mollie) (04/18/1865-?)

Sometime between 1851 and 1860, the John Morris family moved from Montgomery County to Hickman County, Tennessee. Apparently, John inherited a sizeable sum of money from his father's estate when he died in 1830, because his property in Hickman County consisted of 700 acres of land, on which he grew corn and kept 5,000 angora goats.

In the 1860 Census for Hickman County, 6th District, page 139, the John MORRIS family is listed next to the Hardy PETTY family, consisting of Hardy PETTY (1811), Susan PETTY (1812?), and at least 9 children. The Hardy and Susan PETTY family is also listed in the 1931 letter by W.P. MORRIS. I assume these are descendants of Thomas PETTY, one of the first settlers of the Piney River in Dickson County.

At the outbreak of the Civil War, John MORRIS was drafted by the Confederate Army, possibly into G Company, 42nd Infantry of the CSA (based on a match between Tennesseans in the Civil War, Part 2 and Goodspeed's Hickman County History of Tennessee. Sometime before early 1862, he went to Fort Donelson. On February 16, 1862, Fort Donelson was captured by the Union forces under General Ulysses Grant. John MORRIS and 13,000 other soldiers were captured, and MORRIS was sent to Rock Island Prison in Illinois in 1863. It is not clear where he was held for the year prior to his incarceration at Rock Island. He took the Amnesty Oath, and when he returned to them, (they found him walking down the road) he was "tall and lean, with an awful crop of beard" and his children did not even recognize him.

The John Morris household is listed in the 1880 Census of Humphreys County.

Williamson Plant MORRIS (06/27/1851-01/13/1941)

Born in Humphreys County, TN. In 1877, he married Ella TROTTER (18??-1893), and they had the following children: Walter (02/1882), Alma E. (07/1883), Trotter J. (08/1885), Bessie B. (12/1887), Clarence Norman (03/1893), and 3 others lost in infancy.

After Ella TROTTER died in 1893, Williamson Plant MORRIS moved to Rives, TN, in Obion County. On October 10, 1894, he married Elizabeth Caroline WHITESIDE (05/18/1864-11/21/1951) of Rives, TN. She was the daughter of John N. WHITESIDE and Elizabeth L. HARPER (married 11/12/1839). Family members say they never heard her call W.P. anything except "Mr. Morris", and he called her "Miss Lizzie". She had 2 brothers, John and Luther, and 2 sisters, Mary Ann and Margaret Jane. Both W.P. and Elizabeth are buried in Pleasant Hill Cemetary in Rives, TN.
They had the following children:

Harvey Gordon MORRIS (01/10/1897-02/??/1972)

Married Minnie STARNES (1900-1979). They had a daughter, Mary Virginia MORRIS, who married Mack MACDONALD and later Buck MCNEILL.

Williamson MORRIS (1899-1900)

Died in infancy.

Margaret Ruth (01/18/1902-03/03/1991)

Married Owen Brown WOODY in 1922. They lived for a while in South Bend, Indiana, before moving to Jackson, Tennessee, where they ran a grocery store. Owen died in 1955. Thereafter, Margaret lived in Kennesaw, Georgia with Tom SCOTT her last few years, and spent the last few months of her life in a nursing home in Knoxville, TN. She and her husband are buried in the West Hill Cemetary in Rives, TN.

Wilma Plant (11/14/1907-)

Born in Rives, TN. Married William Hubbard SCOTT in South Bend, Indiana on 07/12/1930. They lived in Chicago until their return to Tennessee in 1944. Hubbard was an electrical engineer for the TVA until his retirement, and they lived in Knoxville. Wilma currently lives with her son Paul in Washington, DC. They had two children:

Charles R. MORRIS (09/01/1904-04/13/1989)

Born in Rives, TN. Married Martha Campbell HARRIS (1908-1988) of Union City, Tennessee. They had 2 children:

Eula Faith MORRIS (1933-2017) married Carroll VOIGTS

Robert VOIGTS (1954-)
John VOIGTS (1955-)
Susan VOIGTS
Julie VOIGTS

Married Barbara Avalee CASH (03/11/1928-11/12/1999) of Monroe, Louisiana. They adopted Martha Anita BETSCHE (1970) of Germany in 1971, and had the following children:

Married Laura Lynne JACOBS (1961-) in 1979 in Dallas, Texas and had one child:

Paul Robert MORRIS (1958-)

Married Elaine HAUSKNECHT and had one child:

Philip Scott MORRIS (1962-2017)

Married Elaine Marie UHDE (1956-) in Albuquerque, NM, and had the following children:

Seth Thomas Lee MORRIS (1988-)
Jacob Ian MORRIS (1990-)

---

Click on this image of the 1860 Census for Hickman County to see how difficult it is to find your relatives in these poorly preserved documents!


---

The Amnesty Oath

We, the undersigned, do solemnly swear, in presence of Almighty God, that we will henceforth faithfully support, protect and defend the Constitution of the United States, and the Union of the States thereunder; and that we will, in like manner, abide by and faithfully support all acts of Congress passed during the existing rebellion with reference to slaves, so long and so far as not repealed, modified, or held void by Congress, or by decision of the Supreme Court; and that we will, in like manner, abide by and faithfully support all proclamations of the President made during the existing rebellion having reference to slaves, so long and so far as not modified or declared void by decision of the Supreme Court: So help us God.

---

Genealogy Links of Interest

I am selling a book called TENNESSEANS IN THE CIVIL WAR, by Civil War Centennial Comm., Part 2, 1965, reprinted 1981: A listing in alphabetical order of all TN residents known to have participated on either Union or Confederate side in the Civil War, with rank and unit served with. 612 pages. Hardbound. In mint condition except for a couple of names highlighted in yellow. Maybe you can find them if you look hard enough! I bought this book for $48.00 and got what I needed. I'll sell it for $40, including shipping, to the first person who e-mails me and tells me they want it! I can take check, money order, or credit cards.

Links to MORRIS genealogies

General

HUGE collection of links, photographs, surname researchers, and other resources from the University of California, Riverside

North Carolina

Tennessee

Civil War

Scots/Irish

PETTY Family researchers on the Internet

EASLEY Family researchers on the Internet

HORN Family researchers on the Internet

---

Last Update: 20Apr2004 by Dave Morris